Broadwater Landing on Lake Rhodhiss, NC Lake Info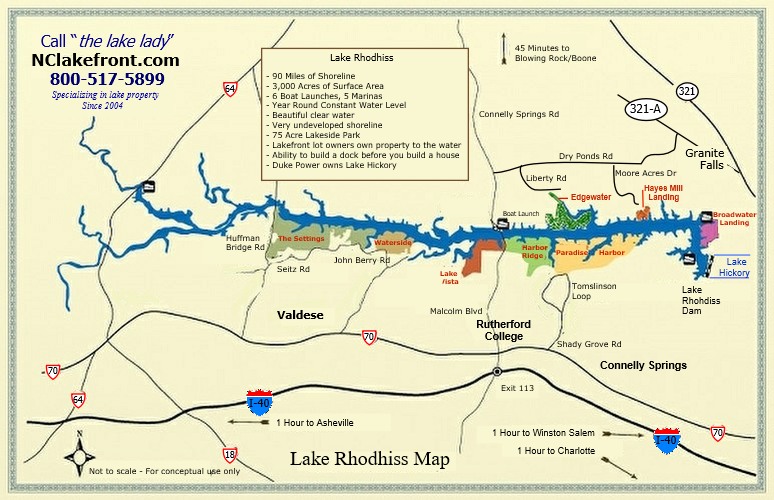 Lake Rhodhiss Highlights:

3,000 Acres in Size
90 Miles of Shoreline
Regulated by Duke Energy
Fully Recreational Lake (Boating, Sailing, Jet Ski's, Water Skiing, Swimming, etc.)
Fishing tournaments
Constant water level, clear water clarity
6 boat launches

Lake Rhodhiss has over 90 miles of shoreline, totaling over 3000 acres of surface area. Lake Rhodhiss offers 6 boat launches. The lake is a fully recreational lake for swimming, boating (gas or electric engines), sailing, kayaking, canoeing, paddle boats, jet skiing, water skiing, tubing, wakeboarding etc.
Waterfront lot owners can obtain Boat Docks Permits from Duke Energy. During the summer months you can enter various fishing tournaments, since the lake abounds with many species of fish. There are several things that have made Lake Rhodhiss extremely attractive: the constant water level, water clarity, and the natural shoreline. Because some communities use Lake Rhodhiss as their drinking water supply, the water level remains constant, where other lakes in the Carolinas as well as other states can vary dramatically. Water clarity is another reason why people want to be on Lake Rhodhiss. Unlike most other North Carolina lakes that have a clay bottom, Lake Rhodhiss has a crystal blue color to the water because it has a sandy bottom. The attractive shoreline of Lake Rhodhiss is one of its greatest assets. The developed portions of the shoreline display custom built homes ranging in size from 2,000 to 10,000+ square feet, with beautiful docks - many with second level viewing decks. With boating traffic rated as low to moderate, you can see why so many people describe the natural beauty of Lake Rhodhiss as "breathtaking."
Call 800-517-5899 to learn more about Lakeside Landing at Lake Rhodhiss, NC.