Sunset Pointe on High Rock Lake, NC Lake Info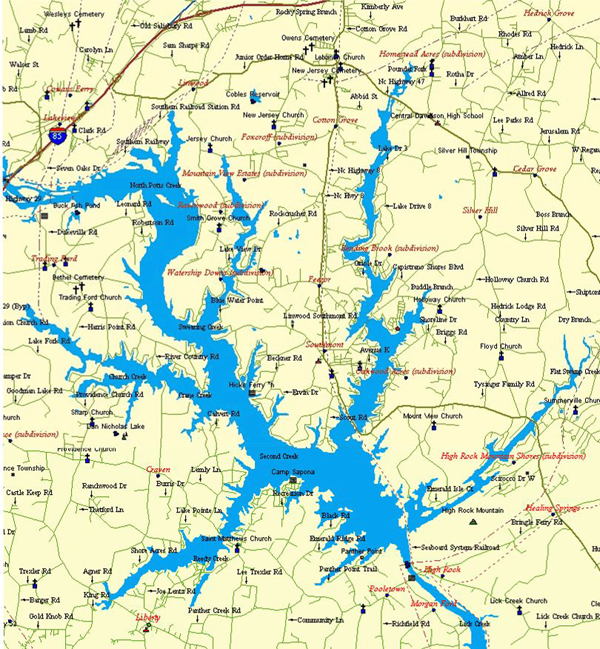 High Rock Lake Highlights:
15,000 Acres in Size
350 Miles of Shoreline
Regulated by Alcoa/Yadkin, Inc.
Many areas of lake desigated as Nature Preserves
Fully Recreational Lake (Boating, Sailing, Jet Ski's, Water Skiing, Swimming, etc.)
Many Islands on the lake with beaches for picnics
18 boat launches and 3 marinas
Fishing tournaments, since the lake abounds with many species of fish
Constant water level, clear water clarity
High Rock Lake offers 18 boat launches and 3 marinas. The lake is a fully recreational lake for swimming, boating (gas or electric engines), sailing, kayaking, canoing, paddle boats, jet skiing, water skiing, tubing, wakeboarding etc. Waterfront lots owners must obtain Boat Docks Permits from Alcoa/Yadkin, Inc to build a dock. During the summer months you can enter various fishing tournaments, since the lake abounds with many species of fish.
Two things that have made High Rock Lake extremely attractive are the size of the lake, and the close proximity to towns. High Rock Lake is one of the largest lakes in North Carolina, with over 350 miles of shoreline to explore. Many miles of shoreline are designated as Nature Preserves, which keeps this large lake quiet and peaceful. One of Sunset Pointe's biggest assets is it's location on High Rock Lake. Many other communities on High Rock Lake are remote from shopping and restaurants, but Sunset Pointe is located only 3-4 miles off I-85, and is located about 10 minutes from downtown Salisbury for all of your shopping and dining needs.