Waterside at Lake Rhodhiss, NC Property Overview
Inspired by the serene beauty of the Blue Ridge Mountains and tucked into a hillside overlooking the water, Waterside on Lake Rhodhiss combines traditional North Carolina charm with the carefree atmosphere of a lakeside hideaway.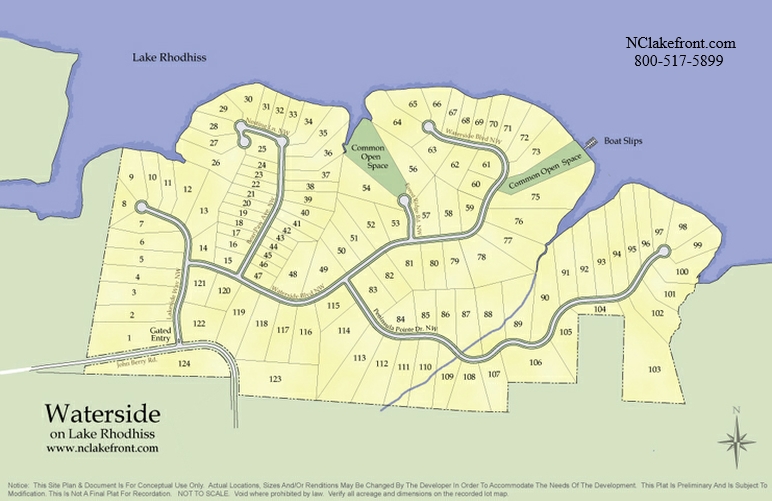 Waterside on Lake Rhodhiss, Amenities include:

Paved Roads
Stone Entrance
Security Gate
Common Access Area to Lake
Lake Rhodhiss Highlights:

3,000 Acres in Size
90 Miles of Shoreline
Regulated by Duke Energy
Fully Recreational Lake (Boating, Sailing, Jet Ski's, Water Skiing, Swimming, etc.)
Fishing tournaments
Constant water level, clear water clarity
6 boat launches
The Retreat at Waterside on Lake Rhodhiss is located on the Southwest side of Lake Rhodhiss, about 20 minutes west of Hickory on the main channel of Lake Rhodhiss.
Click Here to View A Visitor's Guide to the Area - Tons of Information!
Granite Falls and the Hickory area are one of the fastest growing areas in North Carolina, now with more than 300,000 people in the metro area. Centrally located between Asheville, Boone, Charlotte, and Winston-Salem, Hickory is becoming an ideal location for many reasons. From Hickory, you can take day trips to the beach or go snow skiing in the mountains. With an average high temperature of 86 degrees in July, it's no wonder why this region has become so popular.
In fact, Reader's Digest called Hickory "One of the 10 best places in America to raise a family". To arrive at the list of the top places to raise a family, researchers went to the source, surveying parents about factors that affect family life. In the Hickory area, parents interviewed cited positive factors including low taxes, the variety of available activities, the quality of the schools, the affordable cost of living, and the sense of a community.

Also Epodunk.com recently rated Hickory "The Best Hometown in North Carolina".
The Hickory-Lenoir-Morganton M.S.A. has also been named the 3rd best M.S.A. in the country for Business Costs by Forbes Magazine.
Hickory has been named an "All-America City" three times. The All-America City Award is given annually to only ten cities in the United States. It is a very prestigious award that represents a community's ability to work together and achieve critical local issues.

Entertainment – 14 movie theater screens, Hickory Crawdads AAA baseball, Hickory Furniture Mart, shopping malls, fitness trails, health clubs, museums, live theater, Hickory Motor Speedway, Hiddenite's Emerald and Gem Mine, local college sporting events, and of course boating activities on Lake Hickory.

Medical Facilities – 3 Hospitals within 30 minutes, with the closest about 12 minutes away, as well as a variety of local clinics. Frye Regional Medical Center, located in downtown Hickory, is the first hospital in the state of North Carolina to win the JD Power and Associates "Distinctive Hospital" award and also is the first hospital to win it two years in a row. The other 2 hospitals in the area are Catawba Valley Medical Center and Valdese Hospital.
Golf Courses – over 20 private and public golf courses, including Lake Hickory Country Club designed by Donald Ross of Pinehurst #2 fame and Rock Barn Golf Club designed by Robert Trent Jones Jr. Rock Barn Golf Club each year hosts the Greater Hickory Classic Champions Tour Event!

Dining – An abundance of fine eating establishments, offering a wide variety of styles and menus. Some great local places to dine are Youssef's Cafe 242, Cafe Gouda, Josh's Restaurant on Union Square (Chef Josh is a graduate of the Culinary Institute of America), Da Vinci's Italian Restaurant, Vintage House, and Bistro 127 (many gluten free and organic dishes, plus a pastry chef!).
Catawba County Book Club - Meet new people and discuss literature.
Hickory, NC Area Links
Hickory Wins All-America City Award
Golf Courses in Hickory, NC Area
Fun Things to do in Hickory, NC
Children Activites in Hickory, NC Area
Culture and Arts in Hickory, NC
Museums and Historic Sites in Hickory, NC Area
Sports and Recreation in Hickory, NC
Major Employers in Hickory, NC Area
Furniture Shopping in Hickory, NC Area
Planning for Retirement -
Barbie gave us a very high level of comfort that we were making a solid investment for retirement. They had tireless, personalized service that led us to believe that we made the right decision every step of the way.
Thank you!
The Ogburn's
Korea